Kayak
The trip that changed my Attitude and my Latitude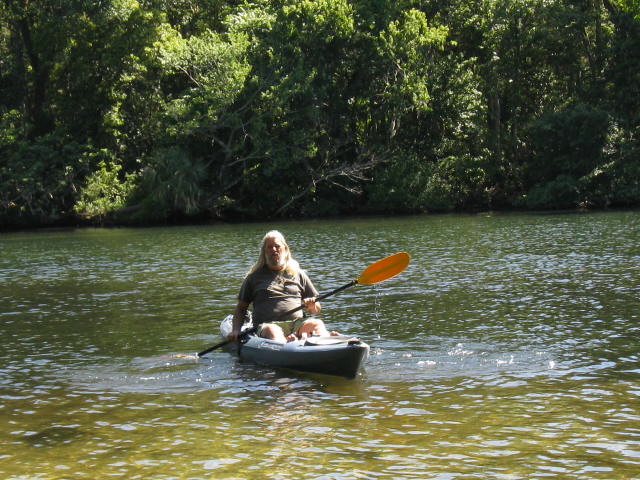 First of all, let me just say that I know you've all been waiting for a long time for me to finish the story on primitive hunting and I will get back to that soon, I promise. It is important, however, that I tell you all first about a major change in my life that is the reason behind my not finishing the primitive hunting story. For those of you that don't know, I no longer work at Billie Swamp Safari. I was getting tired. I had some issues with my employers and needed some time off, so I decided to take a short sabbatical.
While enjoying my time off, I decided to catch up with some old friends and call my buddy Norman. Norman had worked out of North Miami for many years and I hadn't spoken with him in quite awhile. Norman had conducted tours all over south Florida and the Florida Keys. One day, a few years back, Norman added up the mileage from all of his tours over 20 years of being a tour guide and he realized he could have circumnavigated the world over 12 times but had never left south Florida.
Norman decided there and then that he needed a change. He went to central Florida and he pretty much just disappeared. I talked with him for a short time about a year after he left, and he told me that he had something going but needed a little time before making up his mind. Almost two years went by and I couldn't get a hold of Norman. His phone number had been disconnected. I wondered what had happened to him. Out of nowhere, another friend called me and said he had heard from Norman and that Norman had even asked about me. I called my old friend and we arranged a visit.
Driving west from Orlando through small towns and wide open spaces my wife, Suzy Q and I wondered if we were going the right way. There really wasn't much to indicate that we were lost, but there was even less to indicate that we were not. We crossed Highway 19, the westernmost road on the nature coast of Florida. We drove under a canopy of trees so thick that we couldn't see the sky. We felt as though we were time travelers going through a tunnel to another time, when Florida was old. On the other side of this tunnel the canopy opened and there was the bright blue sky again and there was the Chassahowitzka River, and there were people. Among them, I recognized my old friend. He was doing what tour guides do best, talking to tourists. Norman looked at me with a big smile and said, "well, it's about time you showed up here."
We followed Norman up to an old stilt house on the river bank that Norman had reconditioned himself. His house is set in a big yard surrounded by tall pines and old oak trees that shade the whole yard. He showed us to a room with an old four poster wood bed and bay windows that over looked a large expanse of woodland pines. It was beautiful.
We sat and talked about old times in south Florida. I asked him, why he chose to leave. "Glenn," said Norman, "Just look around you." Norman said it was the best move he had ever made and that he was really happy to be doing what he was doing. Norman rents Kayaks, canoes and Johnboats on The Chassahowitzka River and springs and his business was doing really well. I know it sounds Polish, but Chassahowitzka is actually a Native American word that means The Place of Hanging Pumpkins. I'd had to ask Norman about that myself.
The next morning, Norman took us back to the dock where he had three Kayaks waiting at the rivers edge. We got into the Kayaks and slowly started paddling down the Chassahowitzka River. Looking up, we could see towering trees hanging majestically over the rivers edge. We paddled trough a tunnel of trees to the springs that start the Chassahowitzka River. We rolled out of the Kayaks into what we call the "icy" waters of the spring. The water temperature never rises above 72 degrees. To those of us who live here in Florida, that is teeth chattering cold.
These waters are crystal clear with an emerald sparkle that disappears down into the abyss of the spring. After a great swim, we got back into our Kayaks and started paddling down the river. It's only about five miles before it spills out into the Gulf of Mexico. The main river varies from mere inches deep to about 4 or 5 feet deep at times. Looking into the clear emerald water you spot a lot of fish, both fresh and salt-water species. As I floated slowly down the river I could see Bass and blue gill. Then a school of mullet swam by and there were also baby red snapper. In the springs the water is all fresh water. There are many tributaries which feed the main river and dead end as you paddle up them to the springs from whence they originate.
Norman was in front and told us to follow him. He turned into an opening that led into a small lagoon that turned out to be a spring. He said that we were looking for Rachael. About as fast as it took for Suzy Q and I to both ask, "who is Rachael?" there was a loud puff of air and a spray of water. Rachael was a Manatee and she just came up for a breath of air. Rachael is friendly and will come to the Kayak and let you pet her. It is amazing and a little eerie to have an animal larger than your Kayak come to you and be so gentle. After our too brief visit with Rachael the manatee we paddled back out to the river. About a mile down the river we saw two dolphins breaching the waters edge. We explored some other springs along the way and then headed back to the dock. If you are in the area, come spend the day. This river is unlike any other spring fed river in Florida. I was even surprised that you can paddle down the river and then just as easily paddle back up. Norman rents Kayaks, canoes and johnboats at the Chassahowitzka docks. The cost is very low and the whole family can play all day. The phone number to the dock is 1-352-382-0800.
When we got back to the dock, Norman introduced me to Walt. Walt is a Charter Captain and he was filleting some trout that he'd caught that morning. I complemented him on his catch and told him that I hadn't seen trout that big in a long time. Walt gave Norman 5 fillets and asked if we would like to go fishing the next morning. We said yes we would. Norman grilled the trout back at his stilt house and it was awesome.
The next morning we met Captain Walt at the dock. I have to say it was a nice change to sit back and motor down the river instead of having to paddle. About three miles down the river the water starts turning to all salt water. The tall trees give way to open grass marsh for the next 3 miles. Then it's all open Gulf of Mexico. Captain Walt motored toward a small island. He stepped into the shallow water with his cast net and tossed the net and in one swoop netted a school of small finger mullet and some pinfish. Captain Walt said these small fish are like candy to the trout and red fish.
We anchored and started fishing. We all cast out our lines. After just a moment Captain Walt said, fish on! He reeled in a nice trout.
I took a cast, and Bam!, I had a nice trout on too. From that moment on the day just got better and better. I cast my jig out pretty far and gave it a little wrist action as I retrieved it. I got another good hit. As I fought the fish I knew it wasn't a trout. The fish would start coming up to the surface and then fight back to the bottom. Finally I got the fish close to the boat and could see that it was a big flounder. With the ice-chest filling with trout and flounder, Captain Walt decided to pull anchor and look for some red fish.
We anchored close to some rocks. A friend that was with us, Rachael (not the manatee) tossed out a small piece of cut mullet and Captain Walt tossed out a small pinfish. The cut mullet got caught on the bottom and Captain Walt said just leave it, the small fish will pick at it and free it. She set the pole in a rod holder, and a moment later the pole bent and the reel sang out. She took the pole and the fight was on, there are pinnacle rocks on the bottom. The smart red fish try to wrap around the rocks and break the line.
Captain Walt shouted out, "hold the rod high!" and the fight went on. She would reel in and the red fish would pull it back out. This fight went on and on until the fish tired. Captain Walt got the net and scooped up the fish. The red fish was 27 inches long, a definite keeper. The fishing was great until the tide changed and the fish stopped biting. The sun was going down and we headed back in. Coming back into the river the sun was at our back. I think the best time to be outdoors is when the sun is setting. The Chassahowitzka River is at it's best when the sun is setting too. The shadows filter through the trees and it's just a magical place to be. Looking back into the sun you see an orange hew emanating over the tree line. The sky looks like it is on fire.
Back at he dock we cleaned the fish and I thanked Captain Walt for a wonderful day.
I grew up in south Florida, and as a kid I was a mate on party boats, drift boats and private boats. I have fished with many Captains on the east and west coast of Florida. You would be hard pressed to find a better fishing guide than Captain Walt. The charge is $300.00 for a full day for 2 people and $50.00 more for each additional person. To book a fishing trip with Captain Walt call, 1-352-503-7702 or 1-863-599-8480
If there is no answer, leave a message and Captain Walt will call you when he gets back from fishing.
You can't stay at Norman's house, but you can stay at the "Chazhotel" The Chassahowitzka hotel has been open for lodging since 1910. Owned and operated by David and Kim Strickland. There are 8 rooms, the hotel is old but they offer all the standard amenities. David has a pontoon boat and offers eco-tours on the river. During the scallop season you can charter the pontoon boat to go out and catch scallops. There is a good chance you will get lucky and David may sit down with you in the evening for some very interesting tales of the history of the region.
To reserve a room at the Chassahowitzka hotel or schedule a trip to catch scallops call, 352-382-2075 or e-mail www.chazhotel.com
There is also the Chassahowitzka R.V. park and campgrounds.
You can get a full hook up site for an R.V. or just a water and electric site for a tent or pop up camper. I you are into roughing it there are also primitive campsites.
With the economy in such disarray, the Chassahowitzka river is an inexpensive place to bring the whole family for a weekend or longer. Come play with us on the river, it's an adventure that you will not forget.
Chassahowitzka has been a well-kept secret for many years and I absolutely fell in love with the place. So, how did this experience change my attitude and my Latitude? Well, Like my friend Norman, I decided to stay. Hopefully, some years in the future when somebody asks me about it, I will be able to say the same thing that Norman told me, "Just look around you, it was the best move of my life."
I do hope you enjoyed this story and I will try to write more often.
GATORMAN
Glenn W. Wilsey
My stories may not be reused in any way without my permission. If you are a teacher or a student and you need my story or any part of it to help you with a class or a better grade, just e-mail me (gatorman1@aaof.us) and I will gladly give you permission to use the story. Other requests will be considered on a case by case basis.

*This story or any part of it can not be used or reproduced with out written permission of the author!